LEDinside Announced 2009 Revenues of Global LED Package Vendors
---
---

 
Mar. 10th, 2010 ----- According to research institute LEDinside's statistics, the revenues of global LED packaging manufacturers reached 8.05 billion U.S. dollars, a 5% growth compared to that of 2008. Notably, buttressed by the support from Samsung Group, revenues of Samsung LED jumped to the Top 4 in the world from below Top 10 in 2008, making it the world's fastest-growing LED manufacturer.
 
Looking at the revenues of individual vendors, LED suppliers that tapped into the large-size LED backlight market in the earlier stage posted revenue growth amid the financial crisis. Nichia maintained its No. 1 position in the world in 2009, followed by OSRAM Opto., CREE, and other traditional LED manufacturers; Taiwan manufacturers Lite-On and Everlight also made the Top 10 list.
 
The LED industry was affected by the financial crisis in the first half of 2009. Although most makers recorded substantial declines in their revenues, after the second quarter of 2009, demand for large-size backlight boomed, driving rapid recovery in the LED industry. As a result, revenues of most LED vendors in 2009 either maintained or improved slightly compared to that of 2008.
 
In regional competition dynamics, LEDinside explained that as dominant players continue to expand their dominance, vendors without support from their parent group or vendors without particular competitive advantages in cost and technology will not likely survive in the supply chain. In addition, Korean manufacturers own the world's largest panel capacity and brand exports, posing the biggest threat to global LED manufacturers.
 
In regional revenue rankings, LEDinside indicated that Japan continued to secure its No. 1 position in global market share, and that Taiwan ranked second with 17% market share, followed by Korea in the third place with 15% in 2009, a leap from the 9% in 2008.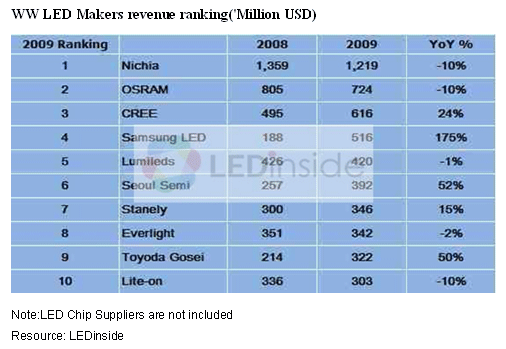 ---