WW DRAM Q3 market revenue drops 2.4%, reaches 63.55 billion, says DRAMeXchange
---
---
 Taipei, December 4, 2008 --- According to DRAMeXchange survey statistics, commodity DRAM contract price dropped 34% and spot price plunged to 52% in Q308. The price difference between contract and spot prices expanded from 0.3% ($2.13 VS $2.12) in Q2 to 14.7% ($2.07 VS $1.76) in Q3. Although the quarterly average contract price dropped only 2.8%, the drop ranges of contract price of August and September were 11% and 15% respectively.
Qimonda, the last DRAM vendor to announce its financial report in Q3, was released. The revenue was 613 M USD, QoQ slightly increased 2.2%. The WW Q3 DRAM revenue only slightly decreased 2.4% QoQ to 6.355 billion USD. Comparing to Q2, the revenue of vendors which were more involved in the spot market decreased more due to the sharply declined spot price. Nanya was the one with the most increased revenue mainly because Inotera enjoyed output increase from its process migration and Nanya's increased ramp up volume in its own 12" Fab. The Nanya Q3 output increased 30%.(Figure 1)
 
Figure 1. 2008 WW Own Brand DRAM TopTen Revenue Ranking, in Million  

             USD

(Revenue of outsourced portion was excluded from the OEM DRAM vendors and included in the Brand DRAM companies)
* Revenue break down by brand, revenue of outsourced items was included
    by brand companies and excluded by OEM DRAM vendors.
* Source: DRAMeXchange, Dec. 2008
Financial reports showed that Samsung was the only memory vendor which enjoyed profit in this industry. The DRAM OP margin dropped form 5% in Q2 to 4% in Q3. Taiwanese vendors mostly didn't perform well with the OP margin of -48% to -70%.
In Q308, the market share broke down by countries didn't show significant change from Q2. South Korea accounted 45.5%, U.S. 12.6%, Taiwan 15.2%, and Germany 9.8%. Breaking down by strategic alliance, after Micron acquired Inotera and licensed technology to Nanya, the future market share will increase sharply. As far as Qimonda is concerned, including Winbond, it still shows down trend of its market share. (Figure 2)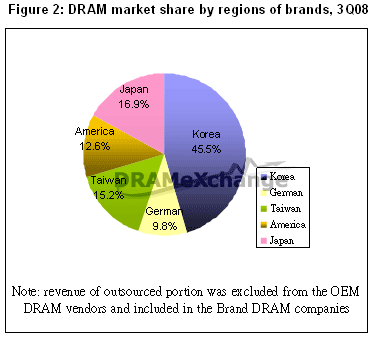 DRAMeXchange estimates that the yearly WW DRAM industry revenue will reach 23.2 billion USD in 2008, decreased 24.7% from 2007. The yearly supply bit growth will reach 67%, and the ASP will plunge 55%.

---