NAND Flash Vendors expect 16 Gb MLC contract price to hit US$ 3.5, says DRAMeXchange
---
---
Taipei, March 31st, 2009-----According to the DRAMeXchange market survey results, NAND Flash vendors kept controlling output and will increase high density chips in 2Q09.Those vendors expects NAND Flash contract price to hit US$ 3.5 recently.
The NAND Flash vendors will continue to control output in order to keep driving the chip price up to surpass its chip cost after the effect of quarter-end inventory lowering in March is gone. Since the major process technology portion of the 16 Gb MLC production is migrating from 5x nm to 4x nm in 1H09, NAND Flash vendors also hope the future contract price can gradually increase and eventually surpass US$ 3.5. It is expected that the 16 Gb MLC price can remain at the current level in the short run with better spot market atmosphere and the adjustment of product mix strategy in 2Q09.
NAND Flash vendors plan to increase their system client shipment portions of high density chips in 2Q09 in order to meet the possible shipment plans of the NAND Flash end application clients in the beginning of 3Q09. Therefore, according to DRAMeXchange, memory card and UFD client shipment portions will decrease and this may provide support to the price of mid to low density chips
With the rising cost of NAND Flash, down stream clients must gradually increase their end product prices to reflect the uptrend of their average inventory cost. Hence the memory card price could also gradually increase with the rising cost of NAND Flash in the past two months, but the 1Q09 total market demand is still insipid. The downstream clients still hope the NAND Flash makers can increase the price gradually so that the price can be adjusted smoothly from upstream to downstream, buffing the negative effect of slowing content per system growth, and create a win-win result for both upstream and downstream makers.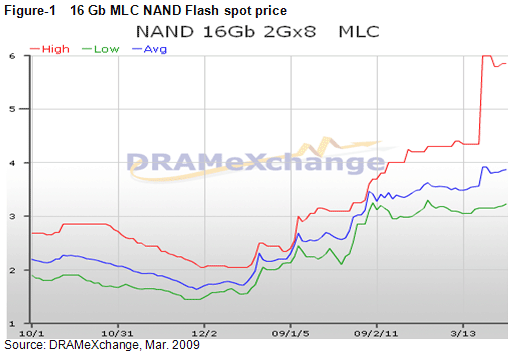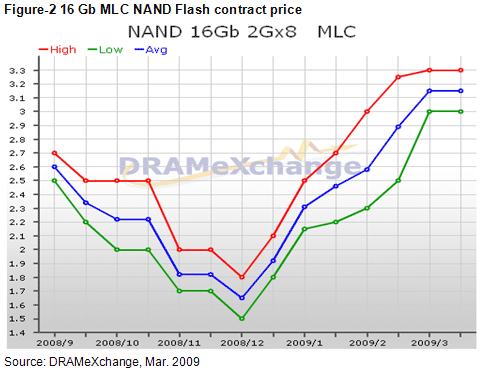 ---