The new challenge for Taiwanese DRAM vendors
---
---
Taipei,Oct.5th,2009-----Contract price for commodity DRAM sharply dropped from 2007 due to the over-supply. The non-disciplined capacity expansion caused the commodity DRAM DDR2 price declined about 83% YoY. DDR2 contract price dropped another 30% YoY in 2008. DRAM vendors faced the challenging environment with low cash position on hand in 4Q08 and difficulty to raise the capital. According to DRAMeXchange.
 
In 1Q09, average utilization rate for Taiwanese DRAM vendors dropped to the low level in range of  20%~50%. Given the recovering demand, DDR2 1Gb contract price has climbed to US$1.7 at 2H'Sep. from US$0.75 in Dec.08. The price has recovered to the level above cash cost from the material cost level. DRAMeXchange projects that the cash flow will turn to positive for DRAM vendors in 2H'09.
 
Given the industry down cycle in past two years, Taiwanese DRAM vendors put great efforts and tried to find new ways out started from the beginning of 2009. Besides Nanya/Inotera will continue focus on commodity DRAM with the support by Formosa group and through the cooperation with Micron, other Taiwanese DRAM vendors such as PSC, ProMos and Winbond will implement different strategic planning for future landscape.
 
Nanya has signed the Memorandum of Understanding (MOU) with Micron in March 2008 and Micron has officially acquired around 36.5% Inotera shares with the assistance from Formosa groups at October 2008. Given the slump CAPEX, worse global economy and bailout plans from Taiwanese government, Nanya and Inotera postponed the technology migration schedule. Taiwanese government proposed the " TMC " as a new solution for Taiwan DRAM industry in March 2009. Nanya, Inotera and Micron later made an official announcement not to join TMC in April 2009.
 
In order to strengthen its financial structure and expand business, Nanya BOD (Board of Directors) has agreed to reduce 66.43% common stocks amounted to NT$31.1B and expand capital no more than 8 billion shares via private placement and capital proceed by cash at April 17, 2009. Formosa group has fully supported Nanya's capital expansion plans.Says DRAMeXchange.
 
Currently Nanya has already moved in two immersion equipments and will speed up the migration to Micron's 50nm technology in 1Q10. Inotera also moved in one immersion equipment and will acquire another three to five immersion equipment next year depending on the migration schedule. After migration to Micron's 50nm technology, DDR2/DDR3 1Gb manufacturing cost will be lower to level around US$1.5 compared to US$2.5 under Qimonda's 70nm technology.
 
Nanya and Inotera will likely to make profit and rebound from the long-term loss if commodity DRAM price keeps above $1.5 next year.
 
In March 2009, Powerchip(PSC) sold partial Rexchip shares to Elpida, which this movement turned Rexchip to complete subsidiary of Elpida and output from Rexchip 100% goes to Elpida. Elpida will not receive any chip output from PSC started from March 2009. As for Elpida, the total output contributed from Rexchip and Powerchip is quite the same with the 100% Rexchip output. As for PSC, this new change enables them completely control capacity planning without selling those" Below-Market-Price"  products to Elpida.
 
Total capacity of PSC's 12" fab (P1, P2,P3) is around 130K with average monthly 30K wafer-in production and below 30% utilization rate in 1Q09. Given the rebounding pricing trend and warming demand, 4Q09 wafer-in production will be adjusted up to 100K-110K and utilization rate will be up to 80%. According to Powerchip's new plan, PSC will accommodate its P1 fab for foundry business , P2 fab for commodity DRAM with technology migration to Elpida's Buried Wordline 60nm technology even 40nm migration in the future. P3 fab will be mainly focus on the NAND Flash product line.
 
PSC has dedicated resourced to NAND Flash for years. In 2006 PSC acquired lands for P4 and P5 fabs for the purpose of NAND Flash production. Currently PSC has mass produced 4G MLC with 70nm technology and will manufacture 8G MLC with 50nm technology in 1H10 along with the plans for migration to 16G MLC in 40nm technology in 2H10.
 
NAND Flash business is more challenging than DRAM since the entry barrier for technology and fund requirement is higher than DRAM business. Therefore, it will remain the debate for PSC to fulfill P3 fab facility with NAND Flash. However, given the continuous NAND Flash shortage, conservative capacity expansion from NAND flash vendors such as Samsung, Toshiba and Micron, and limited yield rate for 30nm technology process, NAND Flash shortage will likely continue next year. In order to fulfill the demand for system customers, Samsung has reduced the supply to second-tier customers. That is, several memory card makers such as Kingston and Transcend all face the supply shortage issue.
 
According to sources, one NAND Flash memory card maker has expressed the intention to support PSC on the funding needed for equipment and technology to secure the NAND Flash supply. It will be very likely to reach full capacity for PSC if it can successfully mass produced 30K~40K NAND Flash wafers in the future. From financial perspective, PSC already see the positive cash flow in 3Q09 and will likely return to positive net income profitability next year.
 
In February this year, with the assistance from government and syndicate banks, ProMos and its ECB holders came to the redemption agreement that Promos purchased back ECB due on February 14th with 75% to 80% discount and survived through the bankruptcy crisis.
 
ProMos maintained low utilization rate at 20%~30% level while consumer DRAM (DDR1) is the main product in 1H09. With the sharply rebounding DDR2 price, portion in DDR and DDR2 is up to 50%:50% by the quarter end at 3Q09 and the utilization rate will be up to 40% in Q409. According to sources, ProMos has aggressively negotiated with potential customers on the capacity planning: Elpida plans to outsource 20K~30K wafers in DDR2/DDR3 from 1Q10;One big DRAM module maker requires around 10K DDR2 512 wafer under the DRAM shortage status. TMC (Taiwan Memory Corporation) will accommodate ProMos' Tai-Chung facility as TMC's R&D and manufacturing site. Meanwhile, 20K NOR Flash wafers will be another target which is still under the negotiation. Therefore, ProMos is likely to rebound from the current low profile and adjust up utilization rate back to the level of 80% if global economy can be much better.
 
Winbond signed the new NT$3.7 Billion loans with nine syndicate banks in July09 and new funding will be applied to the long-term debt repayment due this year and fulfill the operating capital. From 2Q09, Winbond already reverse the negative cash flow into positive one and we believe Winbond has less pressure on cash issue.
 
Winbond has reached the full capacity in 2Q09 due to the strong demand in specialty DRAM. With the strategy to lower commodity DRAM exposure, Winbond will raise the production portion in specialty DRAM, NOR Flash and Mobile DRAM along with the market expansion in graphic memory. Graphic memory products(GDDR3) will be mass manufactured in 4Q09 with Qimonda's technology and OEM business will be initiated first. Winbond will strengthen its capability in graphic memory development while OEM and brand products will be both emphasized.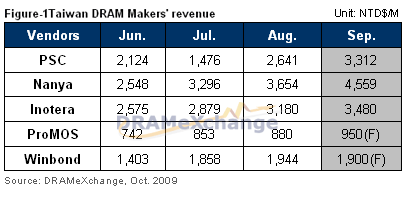 ---