DRAMeXchange: New product and Replacement effect will stimulate the NB market in 2010
---
---
2009/10/9—According to DRAMeXchange, NB shipment is expected to grow 16%~18% in terms of ODM basis in 2010 and regular notebook will be re-emphasized instead of netbook strategically.
According to the industry check from DRAMeXchange, market shares will be condensed to international NB brands and regional/local NB brands will be facing challenging environment in competition. From the product perspective, consumer models will have better outlook than commercial ones and we think this circumstance will benefit for HP and Acer, which have strong brand image and product mix in consumer market. Despite of rocking netbooks, it is estimated that regular notebook will be back to focus.

Considered from capacity and strategic position with NB OEM brands, Quanta will be believed to remain its leadership position in 2010, followed by Compal. According to DRAMeXchange, Quanta will lead the market with 55M~60M shipment, followed Compal for 38M~43M, Wistron and Inventec occupy the third place and fourth place with 30M~35M and 28M~30M respectively. Meanwhile, regarding for the new challenging from Foxconn, the shipment scale is still considered as relatively small and will have better performance after 2010. NB-ODM vendors will find themselves difficult maintaining profit margin due to the popularity of low price NB and aggressive order allocation by NB-OEMs.

According to DRAMeXchange, component shortage(i.e. ODD, HDD, passive components) still happen due to the recovering demand and aggressive inventory replenishment for hot season demand in Thanksgiving and Christmas. It will be notified to check if the demand from end-customers is really as strong as NB vendors expect. Otherwise, the inventory will turn to be another issue in 4Q09.

Benefited from HP and Apple, Quanta will have the strong pick in 2H09. According to DRAMeXchange, 2009 shipment is estimated to be 35M~38M and margin will be obviously improved due to the better product mix and corporate management.

Compal has aggressively expanded their customer base and shipment volume this year with higher portion in Acer's netbook and regular notebooks from Dell and Acer as well. According to DRAMeXchange, the shipment YoY growth rate is estimated to be 33%~35%. Focus more on consumer side, Wistron has good performance benefited from the Acer and Dell. As for Inventec, shipment growth in 2H09 is expected to be lower compared to other NB-ODM vendors due to the high basis in 1H09 and margin growth will be limited due the customer mix.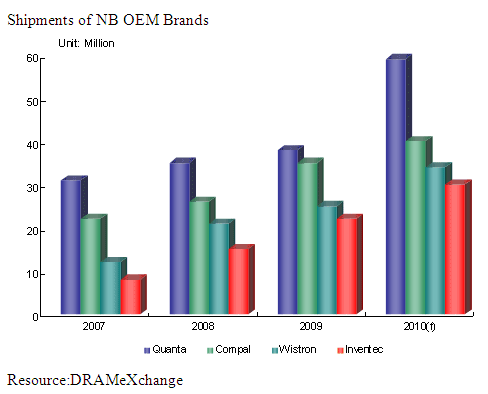 ---