DRAMeXchange: iPad stimulates demand of NAND Flash
---
---
Jan 28th 2010-----According to DRAMeXchange, regarding the impact of iPad on the NAND flash industry, Apple currently controls over 20% of the NAND flash demand according to our estimation. Therefore, whenever Apple launches new products, the popularity of the new device may bring forth a capacity crunch to the NAND flash market. We believe that the iPad may sell 1.5million units in the first half of 2010 , a total of 9million—10 million for 2010. Consequently, the iPad will consume approximately 2% of the total NAND flash demand in 2010. We also expect that the iPad demand created by Apple will exacerbate the shortage situation in 2H10, magnify NAND flash sufficiency ratio from -2.6 to -5.7% for 2010 and from -5.4% to -9.8% for 2H10.
 
The device is a half-inch thick and weighs about 1.5 pounds with a 9.7-inch capacitive touchscreen IPS LCD display. The heart of iPad is a 1GHz Apple-built A4 processor with 10 hours of battery life and 30 days of standby time.
 
Basically, we view the new iPad as an extension of the iPhone/iPod touch product line. iPad essentially works as the way as a iPod touch does, purchasing and listening to music on iTunes, playing games downloaded from Apps stores, surfing the web in the palm of your hand. However, what is intriguing about the new device is the differentiation of the three product lines. If the iPhone is targeted on mobile phone users and the iPod touch is targeted on gamers and iPod users, the iPad is obviously design for e-book reading and light computing.
 
Apple has struck deals with five major book partners in the U.S. to bring contents to the iBooks, Apple's new e-book reading application available on iPhone/iPod touch/iPad. Book contents are not limited to black and white text e-books like Amazon kindle; everything is displayed in sharp, rich, color. Moreover, we speculate that in future versions of iBooks, publishers may provide dynamic and interactive e-books, author's video interviews and even social networking applications. Apple reinvented the portable music play industry with iPod, reinvented the mobile phone industry with iPhone, and may as well reinvent the publishing industry with iPad. Says DRAMeXchange.
 
As for the pricing of the new tablet computer, the Wi-Fi only models will come in 16GB for $499, 32GB for $599 and 64GB for $699. The 3G models runs on AT&T with new data plans – 250MB for $14.99 and an unlimited plan for $29.99 a month contract-free – and will cost an extra $130 per model. The Wi-Fi only models will be available beginning in April and the 3G model in May. Plans for international release will be announced later this summer.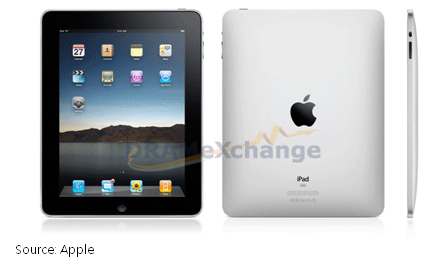 ---