DRAMeXchange: Mobile DRAM demand bit growth will increase 71% in 2010
---
---
Mar. 8th 2010-------According to DRAMeXchange, global cellular phone shipment is expected to grow 10.5% YoY to 1.61B units in 2010 from 1.45B units in 2009 given the strong demand from smartphone. We also forecast smartphone shipment will be up 28.6% YoY to 220M units in 2010 from 170M units in 2009.

 

Benefited from the strong demand from smartphone, demands from NAND Flash and mobile DRAM are boosted. The mainstream mobile DRAM content for smartphone is 128MB in 2009 while content for new iPhone 3GS and Android phones is up to 256MB that the content doubles the one for smartphone and 4 times for feature phone. Nexus One, the smartphone by Google and HTC, is designed with hi-spectrum 512 MB mobile DRAM content.

 

Mobile DRAM shipment is anticipated to grow in the rocket high speed with stable price. Samsung and Hynix have aggressively shown their ambition in market share battle. Currently mobile DRAM portion has climbed to 12% of Hynix' s product mix and 20% for Samsung. According to DRAMeXchange, mobile DRAM output will be up 71% to 1.87B units (1 GB equivalent) and will likely turn to another strong momentum for DRAM demand.

 

2010 Mobile World Congress has come to the end in mid-February and DRAMeXchange have seen the smartphone has occupied all the spotlight during the show that competition in mobile phone industry has shifted to software application from hardware design; High value-added smartphone is highly concentrated instead of high cost/performance feature phone. Smartphone models have surpassed 50% of total demonstration that smartphone development is highly appreciated and respected around the world.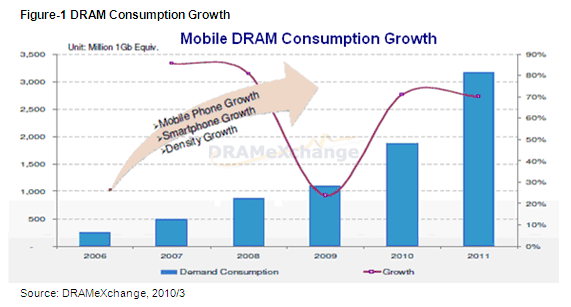 ---