DRAMeXchange: iPad and iPhone will credit to the slight shortage on NAND Flash demand in 2H'10
---
---
Apr. 28th,2010- iPad and iPhone 4G, the new product of Apple, has attracted many spotlight this year. According to DRAMeXchange, 2010 iPhone shipment is expected to reach 40M units while NAND Flash consumption will account 9% of total. We believe the NAND Flash demand will be boosted by Apple products, which will likely result in the mild shortage in 2H'10.
 
Given the delicate contents and support from telecom carriers, iPad and iPhone 4G are definitely the hottest products in 2010. DRAMeXchange forecast 1H10 iPad shipment will likely be 1.7M units while 7M~8M units will be targeted for 2010. Meanwhile, NAND Flash consumption of iPad will account around 3% of total NAND Flash consumption.
 
DRAMeXchange also indicate  the prosperity of iPhone that 2010 total iPhone shipment will be up 60% to 40M units from 25M units in 2009 with the contribution of iPhone 4G. new iPhone 4.0 O.S will be equipped with new functionalities such as multi-tasking, integrated E-mail service, series of enterprise applications and other minor improvements from previous O.S version.
 
From the past experience, Apple Inc. will double the storage capacity when new iPhone is launch besides the functionality and feature improvement, according DRAMeXchange. 64GB iPhone 4G will likely be launch this time
 
iPad is equipped with multi-touched 9.7" LED color screen and will enhance the user experience and multi-media of iPod Touch. With the help from iTunes and Apple Apps store for downloading, Apple confirms its business model based on the digital content. Besides, Apple Inc. will also introduce new e-book service," iBooks", with major American publishers to expand territory to e-book market leverage with the color screen that iPad equipped. Despite of the minor issue for WIFI iPad, we think iPad will show the great potential since Apple Apps and iPhone have done the great effort for iPad.
 
Besides WIFI version, 3G+WIFI iPad is announced to be launched at 4/30 that pricing at US$629/729/829 for 16GB/32GB/64GB respectively. AT&T will offer the 3G downloading service package that we DRAMeXchange think it will help to raise the consumer motivation.
 
Since new consumer electronics product such as iPod and iPhone always turn to the market hit with the strong shipment momentum, NAND Flash demand will be largely impact.
 
According to the FY2Q10 results that Apple released at 4/20, iPhone shipment is record at 8.75M units with 131% YoY growth rate besides the amazing profit figures. iPhone market share in smartphone is sharply rocketing in past years that 2009 shipment is up 80% YoY to 25M units. DRAMeXchange indicate that iPhone shipment will continue its strong momentum given the great assistance from Apple Apps and open bungle package from various telecom carriers.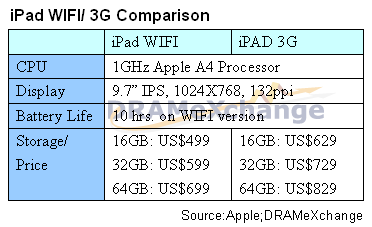 ---