DRAMeXchange:DRAM vendors continue to have pofit performance in 2010-2011
---
---

June 30th,2010-----According to DRAMeXchange, with the migration to 4xnm in 2H10, we expect DRAM price will adjust down in 4Q10 given the enhanced supply growth. 2011 DRAM price will likely decline 30% YoY. However, we see the declining price will help to boost DRAM content upward to over 4GB. With the technology migration, we expect OP margin in 2011 for those best cost practice vendors will be estimated at 36% and 26% in 2011. Meanwhile, we expect OP margin for those less cost-competitive vendors will estimated at 10% in 2011 and they will turn to profit in 2H'10.
 
Facing the enhanced CAPEX, capacity expansion and technology migration from Samsung, other DRAM vendors also aggressively strengthen their competitiveness. Their strategy and planning is listed below:
 
Hynix revised up 2010 CAPEX 1/3 to US$2.6B to accelerate the 44nm migration in DRAM and 3Xnm migration in NAND Flash.Micron camp is accelerating the 42nm technology development while migrate their current technology to 50nm. They expect to initiate wafer-in production from 3Q10. Nanya and Inotera plans to raise CAPEX again for immersion scanner purchasing plans speed up and 42nm technology migration development with Micron.
 
As to Elpida camp, Elpida will raise the portion in mobile DRAM product in Hiroshima facilities and move commodity DRAM production in Rexchip at Taiwan. Rexchip has successfully mass produce 63nm products and 42nm production is expected to be initiated in July. PSC plans to focus more on foundry and NAND Flash business. PSC plans to put efforts in three major business: commodity DRAM, foundry and NAND Flash.
Winbond: Winbond has prioritized product lines in NOR Flash, graphic memory, mobile memory via its Qimonda 46nm technology after gradually phrasing out commodity business. Winbond is also dedicating on self-owned 46nm technology.ProMOS has sold their fab2 in Hsing-Chu and put all the resource in their fabs in Tai-Chung Fabs. They are aggressively adopting Elpida's 63nm technology.
 
 Samsung planed to revise up their CAPEX for memory business to KRW 9 trillion (US$4.8B) from original KRW 5.5 trillion (US$7.8B). The money will be spent on 200K 12" inch fabs-Line 16&17 for DRAM and NAND Flash while detail production plans will be accommodated based on the market. It is estimated to take one year for whole facility, clean room and other equipment set up while wafer-in production plans can be executed at 3Q11. 4Q11 will be the time frame for output. Samsung is going to expand current capacity for Line-15 fabs and initiate the 35nm DDR3 migration. Also, Samsung will invest KRW 2 trillion (US$1.7B) on LSI business for the purpose of demand in mobile handset, DTV and SoC business along with the target to strengthen the capability in foundry business.
 
Samsung's CAPEX percentage of overall industry has been sharply pulled up to 41% from 25%-the original pattern. CAPEX is mainly for R&D and facility infrastructure. CAPEX ratio of total Taiwanese DRAM vendors accounts around 34% in 2010. Samsung recorded US$3B in DRAM revenue in 1Q10 with 32% market share. With the enhanced CAPEX, capacity expansion and technology migration, we expect Samsung's revenue percentage will surpass 35% in 2H10 and over 40% in 2011.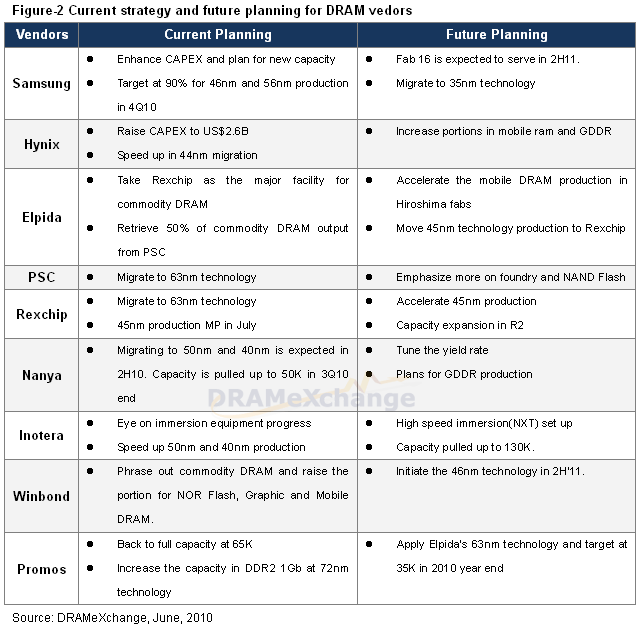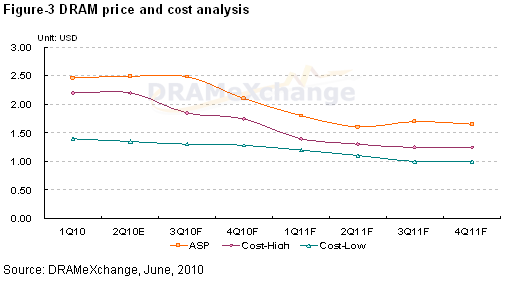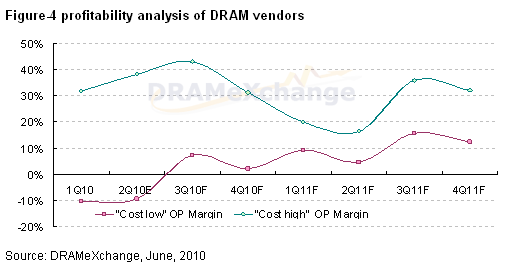 ---